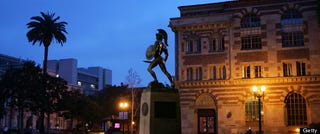 http://www.huffingtonpost.com/2013/07/22/usc…
Unfortunately, in what seems to be a common issue on many major college campuses in the US, a young woman is reporting that her report of sexual assault was not treated seriously. This time, it was at USC, the popular private university in Los Angeles, home of the exceptional Trojans.
I suspect that the biggest reason that college campuses hush these events is because nobody wants to be "that" university with a reputation for being dangerous to women. And since everyone is playing the coverup game, it means that pretty much all major universities have to do it. Same as how all universities game the numbers to rise in the US News rankings, universities game the numbers to seem safe. Nobody wants to be a "dangerous" campus.
But this shit needs to stop. Universities need to start treating these kinds of problems seriously. Unfortunately, like universities who stop playing into the US News game, deviants from the flock tend to find themselves "outsiders." So much for universities being havens of free and independent thinking.