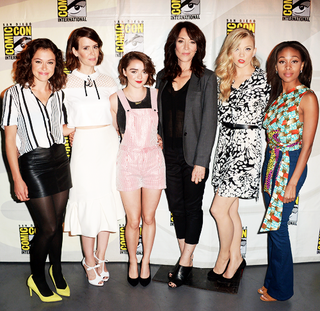 Tatiana Maslany
Sarah Paulson
Maisie Williams
Katey Sagal
Natalie Dormer
Nicole Beharie
Women from 17 to 60. A woman of color. An openly queer woman. Despite (perhaps because of) the bad attitude of some attendees* at the "Women who Kick Ass" panel at SDCC last year**, this year's panel was by many accounts a rousing success.
At least year's panel, a vocal group of men began to try to shout down the panelists, not a totally uncommon occurrence but certainly not one that you'd appreciate or expect in Hall H, the central hub of the SDCC experience and the largest venue offered to panels. To quote Todd Vanderwerff, who attended:
When the panel finally ends and the five women on it proceed off to the side for photographs, something done at the end of most Hall H panels, someone shouts something from the audience, to a mixture of supportive laughs and horrified gasps, and the women quickly leave the stage. ...I confirmed with several people sitting in the immediate vicinity that it was a young man shouting "Women who talk too much!" after the loudspeaker asked attendees to voice their appreciation for the participants in the "Women Who Kick Ass" panel.
Many people park their butts in Hall H for much of the day. It's a wise move for people who want to cover the biggest panels, and it means you may end up checking out things you didn't want to see in order to get your spot for what you REALLY wanted.
This year, a miracle occurred. The "Women Who Kick Ass" panel was scheduled immediately prior to Marvel's big announcement, where in the past they've featured the likes of Robert Downey Jr and Tom Hiddleston showing up to help usher in the new Marvel Cinematic Universe adventures and drum up the audience. I'll let this Twitter user who attended take it away.
So to everyone who thinks that sci fi, fantasy, comic books, video games, and other genres will always be a male-dominated space, to everyone who fails to fight the pernicious white feminism rampant in these conventions, to every fanboy who thinks it's not a big deal that the woman who named the Avengers isn't in any of their movies...
---
*The comments on that story share some very telling stories. You can watch almost all of the panel on YouTube.
**Worth noting that there were more women of color, but significantly less diversity otherwise. Now if only we could get some PWD represented on the stage I could stop sacrificing things to the old gods.