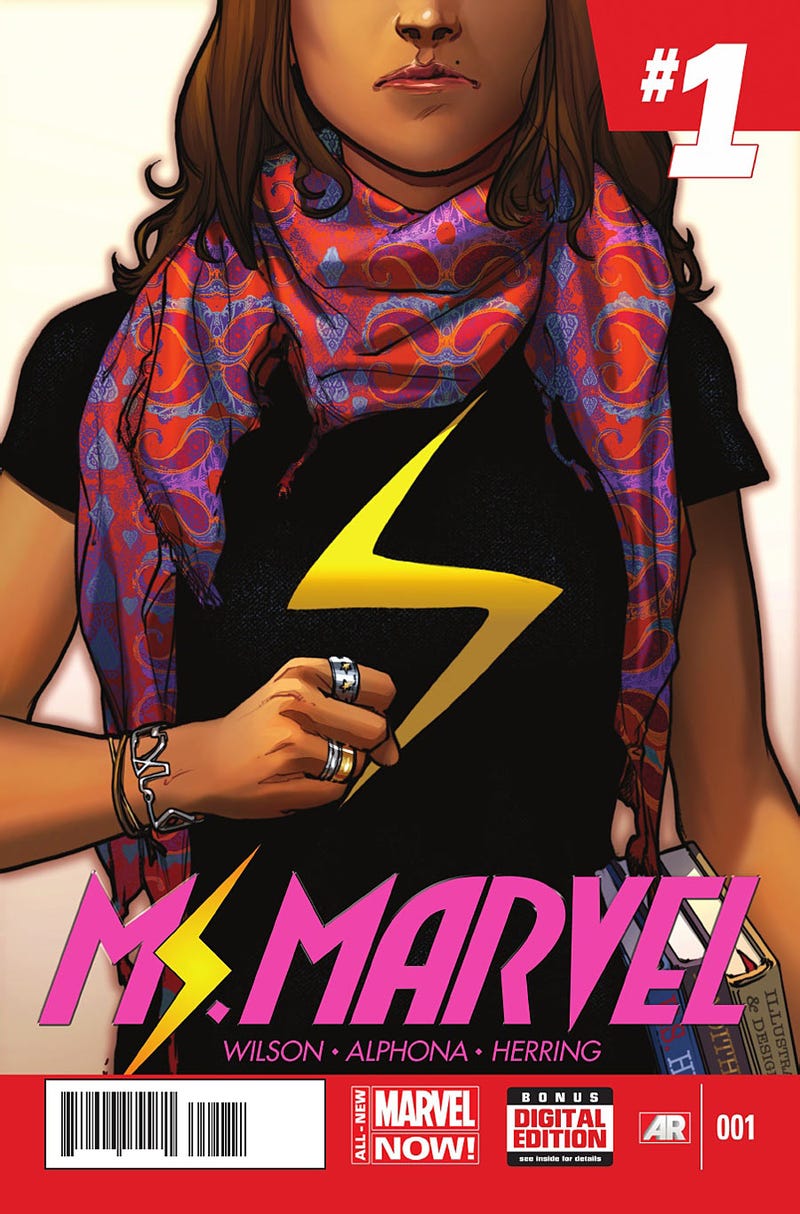 Image via hitfix.com.
and it's only on its second issue.
Ms. Marvel #2 came out today, and the comic featured more of the same as the first issue: amazing art, good story, great characterization.
However, what's more fascinating to me right now is how Kamala Khan as Ms. Marvel is already inspiring young women.
For those of you who don't know, Kamala Khan is Muslim — she's Marvel's first Muslim character with his or her own comic book, in fact — and the daughter of Pakistani immigrants. These aren't superficial details added to make Kamala vaguely more interesting — her family is clearly important to her and they have important roles in the two issues that have been published so far. Moreover, in the comics Kamala references the Quran, and in the debut issue, Captain Marvel (Ms. Marvel's predecessor) appears in a vision speaking Urdu* to Kamala. In other words, Kamala's unique heritage is essential to the story.
This apparently has not been lost on some readers of Ms. Marvel #1. The last page of the today's issue contains excerpts of letters from fans in response to the first issue, and some of these letter writers identify themselves as Asian-American or women of color (just like Kamala). Here are a few of those letters:**
"I'm not a young Muslim girl living in America, but I am a (brown!) daughter of South Asian immigrants who grew up in Singapore. My life was and is a constant battle between the culture of my heritage, and the 'western ideals' that seem to be everywhere that isn't home. So despite our differences, I relate so much to Kamala. Her desire to fit in, to just be 'normal' like everyone else … I'm a little bit older and wiser now, but Kamala's struggles in issue #1 struck me deep. Feeling such a kinship to a fiction character is so rare for me in any kind of media (as much as I enjoy a lot of it) — that finding it in a Big Two comic is just amazing!" (sub. by Yamini Marley)
"Hi, my name is Leela. I am half Gujarati and half Filipino. Half-Hindu and half-Catholic. Half super-heroine, half-nerd. All American. I bring chicken tikka masala and roti, or longganisa and tocino for lunch. I celebrate Diwali and Christmas. I am different and special in my own way, yet like everyone else I desperately want to fit in and make a difference. And I will. Years from now, I will re-read this [comic] and will remind myself of what you taught: the importance of cherishing and being true to yourself, of courageously embracing a bigger world, and seeing the good in others no matter how they look or smell, what they do or say." (sub. by Leela A.V.)
As we like to say around here, representation matters, and it's inspiring to know that others are inspired by Kamala. While TV shows and movies might be kind of a long shot for diversity, it's encouraging to know that mainstream writers and publishers are willing to include characters like Kamala in their comic stories. Beyond the sentimental impact as evidenced by the letters above, Ms. Marvel is also making a splash where it really counts: in sales. Within a week of its debut, Ms. Marvel #1 became Marvel's top digital bestseller and the number two seller at Comixology, a website that sells comics put out by many, many different publishers. Marvel also quickly ordered a second printing of the paper version of MM#1.
Just as I can't wait to see where Kamala's story goes and what she does with her new abilities, I can't wait to see what kind of long-term impact her groundbreaking character has young comics readers, of color or otherwise.
And for those of you who haven't read Ms. Marvel, it's not too late to get in on the fun. It's only on its second issue, and it's only published once a month. Remember … companies won't make comics with characters like Kamala if no one buys them.
*Urdu is the national language of Pakistan.
**Both excerpts taken from Ms. Marvel #2 written by G. Willow Wilson and illustrated by Adrian Alphona, page 22, from Comixology.com.