No, seriously. The KLM (Royal Dutch Airlines, to the fancy) Lost and Found staff at the Amsterdam airport now employs a beagle named Sherlock to help return items left by forgetful passengers on planes.
I'm not even joking right now that I need to fly to Amsterdam and leave a sweater shoved under my seat as soon as freaking possible.
KLM has been my favorite airline since a college trip to Barcelona and some truly idiotic behavior on the part of another airline* ended with me stranded in Amsterdam for 18 hours (six of those without my suitcase and twenty minutes of it sobbing on the phone to my mother). The staff behind the KLM counter were kind and patient with me while I sorted myself out and got everything under control, and the fact that they pronounced my entire name correctly without any help just made it that much better. When the attendants on my flight back to the US the next morning heard what had happened from the gate staff, they bumped me up to an empty first class seat and gave me a mimosa and I slept the whole way home. They have an entire Lost and Found Service team that monitors social media for people lamenting forgotten items and checks every plane after passengers have deboarded so that stuff can be returned as soon as possible. I would marry KLM if it was legal.
So the fact that they've hired a cutie patootie beagle (named SHERLOCK) to help reunite harried travelers with their phones and computers or even more importantly little kids with their stuffed animals (already crying, sorry) makes me want to divorce KLM so I can marry it all over again.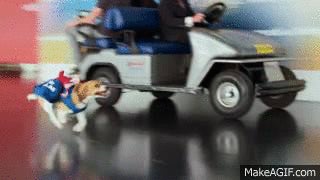 Good dog, Sherlock. Good dog.
ETA: Gizmodo apparently hates happiness, proved by the fact that they felt the need to inform us all this is an ad and that Sherlock is not a permanent member of the KLM Lost and Found team. BOOOO Gizmodo. Boo.
---
*(coughcough)Iberia(coughcough)