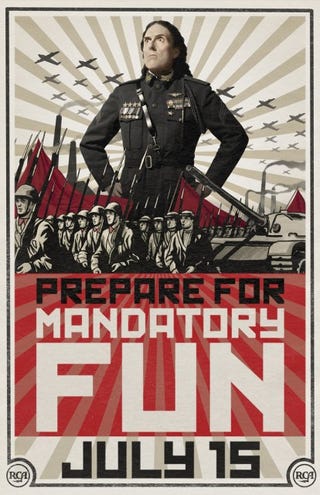 Weird Al is back, y'all! His fourteenth(!) album Mandatory Fun drops tomorrow and to celebrate he'll be putting out eight music videos over the course of eight days. But don't call him the next Beyoncé.
In his interview with NPR, Yankovic disputes the idea that he's parroting Queen Bey:
My last album, which came out three years ago, I had a video for every single song, and they all came out at once. And nobody said to Beyoncé, "Hey, you're doing a Weird Al, aren't ya?" So for the record, I was first.
Interestingly enough, Weird Al hasn't done any parodies of Beyonce thus far, but perhaps this album he'll finally get around to poking the hive. Best of luck, sir. Don't get stung by the stans!
Here's his first video, the "Happy" parody "Tacky" featuring Aisha Tyler, Kristen Schaal, Margaret Cho, Jack Black, and Eric Stonestreet. I know they're all supposed to dress like fashion rejects run amok, but I for one really want Kristen Schaal's hand-boob dress. If anybody knows where to get one hook an Avatar up!
(Image via Splitsider)