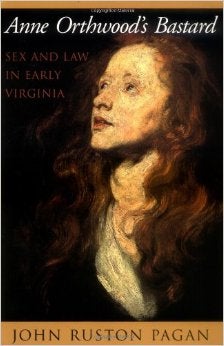 Few people know that the legal system of the burgeoning Virginia Colony would be forever changed due to a clandestine meeting in a tavern. That's just what happened. The four subsequent legal cases stemming from one night of sex between an indentured servant (Anne Orthwood) and a young man from a powerful family in Northampton County, Virginia, would change the legal system of the Virginia Colony forever. As a result of these four cases stemming from Anne Orthwood's pregnancy, the Virginia Colony would begin to modify English Common Law traditions, and begin to create their own, subsequently creating fledgling legal systems for independence. The legal cases are chronicled in John Ruston Pagan's work entitled Anne Orthwood's Bastard: Sex and Law in Early Virginia.
Anne was known as Anne Orthwood to Virginians, but her actual surname was Horwood or Harwood. Anne was Christened on August 12th, 1639, in Worcester, England. At the time, Worcester was booming. Worcester had even survived a disastrous bout of plague in 1637, in part because of the city's highly organized textile industry. Of 58 children baptized in the Anglican Church of All Saints in 1639, 57 had the names of both parents listed on the roster. Anne had solely her mother's name, Mary, listed. The rector placed an asterisk by Anne's name, and added "notha," the Latin word for "bastard," beside it. Anne was born a bastard herself, and this had numerous negative implications for her mother and Anne's own future.

By having a child labeled a "bastard" by the rector, it was implied that Anne's mother had committed the sin of fornication, and was at the mercy of the Church's disciplinary process. The ecclesiastical courts prosecuted those that had shunned expectations provided for them for the sake of their alleged souls. Prosecution was necessary to restore the accused's relationship with God and the Christian Community. When pressed, God provided no comment for this story.

Typical sanctions included public rituals of repentance and reconciliation. An offender that did not comply would be threatened with excommunication. Anne's Mother, Mary, was probably motivated to avoid the entire mess. Anne left All Saints and Worcester shortly after Anne's birth, relocating her family to Alfrick, a village that was about five miles away. Not to be outfoxed, the ecclesiastical court found Mary in 1640 and handed her a citation that summoned her to stand before a Chancellor of the diocese of Worcester the following month. Mary, truly showing the Church that she couldn't be arsed with this patriarchal shaming, moved again to Bristol, a port city 70 miles downriver from Worcester. In an wonderful aside, in a few short decades, Bristol would become the birthplace of Blackbeard the Pirate. For now, it was where Mary settled her family. Bristol was a vast city. Mary struggled being a single mother far from her friends and family. Mary and Anne's lives became increasingly more difficult when Mary conceived a second child out of wedlock, who would later be named Mary, in 1642.

Being an illegitimate (again, this is nothing but a social construct, but for the time illegitimacy was an important one) child in the 1640's and 1650's was undoubtedly a difficult burden for Anne and her sister Mary. Ironically, premarital sex was common at the time; a quarter of all brides were pregnant on their wedding day. That being said, illegitimacy was still exceedingly rare, only accounting for 1 to 2 percent of births. This is a much lower rate than previous centuries. "Bastard" still remained a powerful term. As John Ruston Pagan pens in Anne Orthwood's Bastard:

"Bastard remained a powerful term of opprobrium in throughout the seventeenth century, reflecting the popular resentment of illicit offspring as the living symbols of social irregularity."

English law's harshness towards bastards had lessened, but consequences for being born a bastard still remained. Bastards had fewer rights of inheritance and legal protections than legal children enjoyed. Anne also faced the challenges of her generation. Rapid population growth had caused a labor surplus, rents were rising, and jobs were hard to find. Pitchmen praising immigrating to the Virginia Colonies constantly mentioned the fact that men highly outnumbered women, making marrying prospects (once the indentured servitude was completed) overwhelmingly high. Because of these facts, it is no surprise that Anne turned her eyes to the Virginia Colony as an escape and opportunity.

Unfortunately, individuals like Anne were also blissfully unaware of the high mortality rates and harsh working conditions facing them once they hit the mid-Atlantic soil. This of course pales with the horrors faced by the Native peoples of the continent, along with the thousands of Africans being shipped and sold in the Slave trade. For many individuals, immigrating to the Chesapeake Bay area only provided them with the opportunity for an early death. Between 40 to 60 percent of indentured servants did not live long enough to complete their service.

Anne immigrated as an indentured servant to the Virginia Colony in 1662, at age 23. Anne's initial Master, Jasper Cross, was a ship's surgeon. Anne's contract stipulated that she undergo four years of indentured servitude under "Usual Obligations." Essentially, Anne had to render faithful service, and her master had to treat her reasonably, provide her with food, shelter, and clothing. An additional stipulation, called "freedom dues" called for Anne to obtain a customary allotment of corn and clothing when her servitude ended. Cross intended to sell Anne once the ship landed in the Virginia Colony, knowing that Anne would fetch him a good price. The tobacco industry was growing in the Chesapeake, calling constantly for labor to tend to the cash crop. Indentured servants of all genders would work the tobacco fields until the eighteenth century, when slavery would begin to dominate the workforce. Additionally, domestic workers were needed for milking, cooking, washing, and sewing. The market was ready for Anne in Virginia.

Cross soon sold Anne, and her time (four years) to William Kendall. William Kendall was a typical "rags to riches" tale. Originally an indentured servant himself, William Kendall rose to be one of the wealthiest men in Northampton County, and would later become Speaker of the House of Burgesses. The House of Burgesses was the first assembly of elected officials made in the colonies. How did Kendall rise this? Kendall was able to do so because of a sizable inheritance from his former employer, and a fortuitous marriage to the widow of his former master. Play on, player, and play William did, right to the top of the Colonial Social ranks. Kendall's household was a patriarchal institution that saw the father of the house as the divine head. The most prevalent and important community expectation was a demand that patriarchs prevent their dependents (including their servants) from engaging in "Ungodly behavior" or behavior that was threatening to the neighborhood. Kendall also had an additional duty to combat fornication, as Kendall held the position of Churchwarden. Churchwardens were the buzzkills of the 1660's, as their job descriptions entailed prosecuting their brethren who engaged in adultery, whoredom, drunkenness, or general wickedness.

Pagan argues that Kendall's position as a social climber caused Kendall to remove Anne from his household as he saw a romance budding between Anne and his nephew, John Kendall. Patriarch William Kendall considered this match unsuitable. Pagan argues that Anne hoped that John Kendall would marry her, and set her free from her servitude, providing her legitimacy in this new world. William Kendall had different plans for John. John was intended to marry a rich woman, as William himself had, and continue to rise the family up the social latter. As a penniless servant, a marriage to Anne was unacceptable, and so too was a non-marital relationship. So Anne's contractual rights were sold again, to a master named John Bishopp. Although the transaction occurred in late summer, this sale required a court proceeding. It was this transaction that put the four court cases into motion. Things were not over between Anne and John.

Because Northampton Country lacked a proper court house, all parties in question traveled to the Webbs Inn on the 28th of November in 1663. It was on this night that Anne and John had sex at least twice. Anne conceived two boys during the weekend, but to her sorrow, she would soon be found to without the aid of John Kendall. In order to protect herself and her illicit lover, Anne hid the nature of her condition as long as possible. Throughout this time, Bishopp, allegedly to reduce his financial obligations in the face of failing tobacco crops, had sold Anne to Lieutenant Colonel William Water, a justice of the peace and plantation owner. Regardless of Anne's best efforts, biology caused her pregnancy to be known. Anne was then arrested, interrogated, and thrown into jail. For reasons that are never explained, Anne never revealed the name of the twins father during her interrogations.

This incident caused the first court case mentioned in Pagan's book, Waters vs. Bishopp. Waters claimed that when Anne was sold to him, Bishopp insisted that Anne was a virgin and was in perfect health. When Waters discovered that Anne was pregnant (and being concerned about the loss of Anne's labor), Waters sued Bishopp for breach of contract and his down payment on Anne. Bishopp protested the lawsuit, saying that he was unaware of Anne's pregnancy when Anne was sold to Waters. Waters was also probably wanted to avoid supporting Anne throughout her pregnancy. Under English law, if a servant became pregnant during their tenure at their masters house, that master was responsible to provide that servant with the necessities for life, and not turn her out. In order to relieve himself of that duty, Water had to convince a panel of judges that Anne was pregnant before she was sold to him by Bishopp. Before the case could go to trial, Bishopp asked for a stay of the case, alluding to some work he had to do out of town.

Anne remained in jail throughout her pregnancy. When Anne went into labor, she was denied a midwife by her jailers until she named the father. Under intense pain and physical duress, Anne named John Kendall as the Father. Anne delivered one twin that was stillborn or died after birth, but named the surviving twin Jasper. Anne died shortly after from complications from her birth. Like many women carrying twins, Anne delivered two months early; this would become an important factor later on. Because of her death, Waters did not have to convince five judges that Anne became pregnant while he served in his home. Waters still sued for breech of contract against Bishopp, and won. Waters was awarded his down payment for Anne back, along with suet costs. Pagan explains the significance of the Waters v. Bishopp case. Long before the English courts, by ruling with Waters, the Virginians chose the principle of caveat venditor (seller beware) over caveat emptor (buyer beware). This one court case shows how Virginians shifted to pro-buyer rulings, unfortunately, on the back of servant labor.

After her death, John Kendall fought to deny paternity of Jasper, filing a petition in the courts proclaiming his innocence and denying paternity of Jasper. This case, Ex Parte Kendall, was a civil liability case that came before Northampton County Court on August 29th, 1664. The court determined that two separate issues were at hand. The first was whether or not John Kendall was liable for Jasper's fiscal expenses until Jasper could be bound into servitude. The second was the moral question of whether or not John had extramarital sex with Anne. The courts ruled that John was innocent of having extramarital sex with Anne, using the reasoning that because her babies were born two months early, (again, something that modern science recognizes as a common occurrence in twins). However, the court also ruled that John was responsible for supporting Jasper until he was old enough to become an indentured servant. This ruling essentially has John Kendall morally innocent of having sex with Anne, yet legally guilty of being Jasper's father. Modern day legal scholars believe that this ruling was enacted because the magistrate wanted to prevent the "burden" of paying for Jasper to fall on the taxpayers. In the seventeenth century colonies, abandoned children were fed, clothed, and housed at public expense. Pagan also explains that the legal ruling was also influenced by the English precedent that when a woman in court or "in travail" (labor) named a man as the father of her child, the court had to presume the authenticity of her claim.

Although an outcome was reached regarding John Kendall's fornication with Anne via the civil case, Ex Parte Kendall, a criminal trial had to occur. This trial, Rex v. Kendall, was the third trail that occurred because of an illicit weekend at an Inn. Much like in the civil case, Kendall was found not guilty. The reasoning behind this ruling was the fact that Anne had given birth two months early, combined with the fact that she had only revealed the Father's identity via a midwife interrogation during labor. The court viewed this fact as evidence that Anne's story lacked credibility.

The fourth case, Orthwood vs. Warren, did not occur until sometime later. This final case occurred when Jasper, Anne's son, had become a grown man. The court case, Orthwood v. Warren, addressed the two conflicting laws present in the Virginia colony regarding the age of freedom for bastard children. As Jasper was growing up, John Kendall never took Jasper into his own house. In lieu of that, Jasper left him as a ward of the state, to be sold to whomever, and made payments of costs associated with his care. As a bastard, Jasper was delegated at birth to indentured servitude.

Eventually, Jasper became the servant of a wealthy landowner named named John Warren. At the age of 21, Jasper petitioned his owner, John Warren, for freedom. John Warren refused Jasper's request, citing the English Poor Law of 1601 which stated that churchwardens may bind male bastards into servitude until the age of 24. Not to be denied, Jasper hired a lawyer, and sued his master in Northmapton County Court. Jasper's defense relied on the 1672 act of the Virginia Free Assembly that stated that male bastards are bound in servitude until the age of 21.

Orthwood v. Warren is a special case. Not only did the outcome of this case delegate the proper age that bastard indentured servants can be freed, but also what laws were held higher within the Colonies. Were the Colonies subject to miles that were made leagues away, in England? Or were the Colonies laws that were made locally, by colonial assemblies, to be held in higher regard? In this case, colony law was held foremost legally, and Jasper walked out of the courtroom a free man. For those who are interested, Jasper's father, John Kendall, died young and destitute after a horrible marriage. Just desserts.
Anne Orthwood's Bastard is notable for the ways it highlights how settlers in the British Colonies manipulated English law practices and made their own. Each of the four cases is a primer on the development of law in the United States, starting with Colonial Law, which is built on English Law foundations. The most compelling figure in this story is Anne herself, a woman who came to Virginia in hopes of finding herself a husband and a better life. Instead, Anne birthed two illegitimate children in a torrent of blood, and died as a result. The United States was not only built by the words of privileged white men. The United States is founded on the genocide of Native peoples, on the thousands of people of color brought here in chains, and on the blood of women like Anne. Women like Anne, who came to unknown shores with heads full of songs and stories, only to to face a harsh, unforgiving, patriarchal reality.


Image via