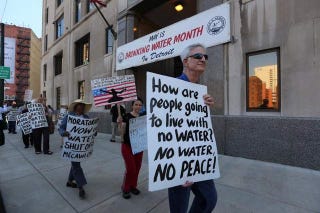 In Detroit right now an ongoing battle between the city's government and its poorer citizens is beginning to intensify and even reach the attention of international organizations.
Earlier this spring the city made good on its threat to start cutting services to up to 3,000 households a week that were at least $150 overdue on their water bills. The Detroit Water & Sewage Department, the city agency in charge of water services, estimates that more than 80,000 households are behind on their water bills. So far, more than 4,000 households have had their service cut indefinitely.
It is thought that so many are unable to pay due to the size of the city's infrastructure, which was meant to be supported by a much larger population, relative to the number of households left behind, most of which are lower income. Moreover, there are many federal programs to help defray the cost of gas and electricity, but very few that provide assistance for water bills.