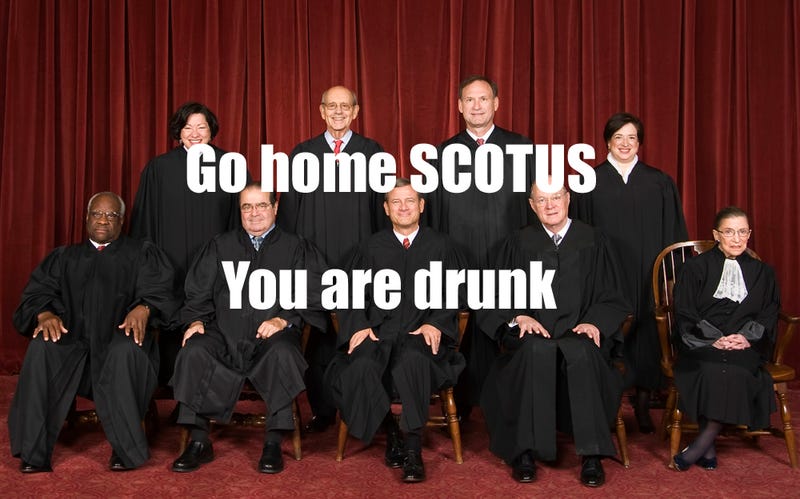 If you're anything like me, the last 36 hours or so have been filled with rage, tears, and yelling obscenities at the Supreme Court over it's appalling ruling allowing employers to refuse to provide health insurance coverage for some forms of birth control. This blatantly sexist travesty was compounded this morning when SCOTUS clarified that the decision is not limited to the four types of contraception specified in the Hobby Lobby case, but extends to ALL methods of birth control.
In light of the number of times I've have had to engage in debate with friends, family members, coworkers and random people on the internet as to why the Hobby Lobby ruling is terrible for women, I've compiled a list of the most frequent arguments I've heard in support of the decision and some (hopefully!) handy links and talking points refuting said arguments.
1. Should the government be able to force companies to pay for something that goes against their religious beliefs? What about their right to religious liberty?
On one level, this all stems from the Citizens United ruling. This is the infamous case in which the Court held that corporations are 'people'. There are obviously a number of real, substantial, non-trivial differences between a person and a corporation, including but not limited to the fact that an actual human being can: A.) die, as opposed to going out of business; b.) go to jail if they commit a crime, as opposed to, you know, banks and Wall Street firms that are "too big to fail" or completely unaccountable; etc. Many people, myself included, do not believe that corporations should be considered 'people' under the law. SCOTUS (well, at least 5 of them) and I disagree bitterly on this point. So, my to answer the question of "should the government be able to force companies to pay for something that goes against their religious beliefs?" is that yes, I think that the government should have that power.

The government can already force corporations to do all sorts of things that may be at odds with a corporation's religious beliefs - for example, the government compels private companies to abide by federal anti-discrimination laws. Thus, while your religion may tell you that gay marriage is evil/sinful/whatever, that does NOT mean that if you own a bakery, you can't refuse to sell them a wedding cake.* I fail to see how requiring private corporations to comply with a mandate to cover contraception is somehow different. Though who knows what kind of doors this ruling may open for corporations to argue that that also violates their religious liberty...
Which brings us to the second part of the argument: "What about their [corporations'] right to religious liberty?"
Let's remember that corporations *DID* have an alternative to covering contraception, which was simply to not provide health insurance for their employees at all and instead pay a fine. If a corporation's morals are so important (which, as Hobby Lobby invests in funds that include the makers of the morning after pill, IUDs, etc illustrate, they clearly aren't), then the company should be willing to stand up for their convictions and pay the price.