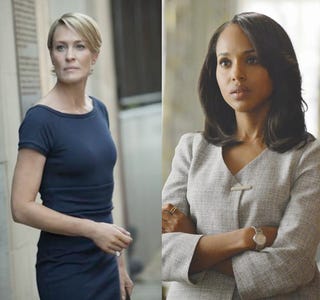 As far as I can tell, there's a stark difference between a "feminist character" and a "character who is a feminist." While there certainly can be overlap, there rarely even seems to be, and I can't understand why there seems to be so much confusion.
This post has been buzzing around my head since February's season two debut of Netflix's House of Cards, but somehow I haven't been able to properly articulate what I've wanted to say until today.
The House of Cards premiere generated a lot of discussion regarding Claire Underwood's "credentials" as a feminist, specifically in regard to a plot line wherein she gets revenge on (and supposedly justice from) the man who raped her in college, (now a decorated military man) by invoking him as the reason for her (several) abortions in a live television interview. In one fell swoop, Claire is able to forever demolish the reputation of her attacker, and deftly explains away her childless marriage in a way that secures sympathy for herself and her husband witin the political arena.